Skip to end of metadata
Go to start of metadata
DTP Engines for Java, C/C++, and .NET analyze code according to test configurations, which define the rules, scope of the analysis, and other parameters associated with ensuring software quality. DTP Engines ship with a set of standard test configurations, but you can also manage and distribute test configurations from DTP to engine users to ensure that your development testing policy is being followed. See the DTP Engines documentation for additional information about test configurations.
Choose Test Configurations from the settings menu icon.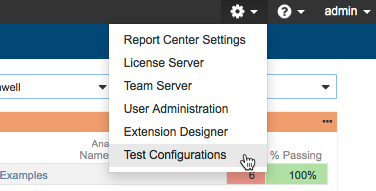 You can perform the following actions:
Click on the hamburger menu to open the rule map editor. See Rule Maps for additional information. 
Click the upload button to upload an existing test configuration. See Uploading Existing Test Configurations.
Click the add button to begin creating a new test configuration. See Adding Test Configurations.
Click on a tool name to access and configure its associated test configurations. See the following chapters for additional information: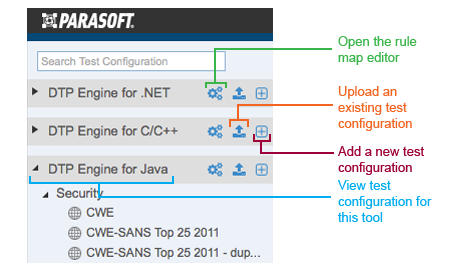 About Test Configuration Access 
You can configure test configuration visibility and read-write permissions to ensure that teams are using the appropriate test configuration according to development policy. Test configurations can have the following types of visibility:
Private: The test configuration is only visible to user who added the test configuration.
Project: The test configuration is assigned to one or more projects. Only users assigned to the project or projects can view the test configuration
Global: Any user assigned to any project can view the test configuration.

Test configurations are marked with icons with an access type in the test configurations page sidebar: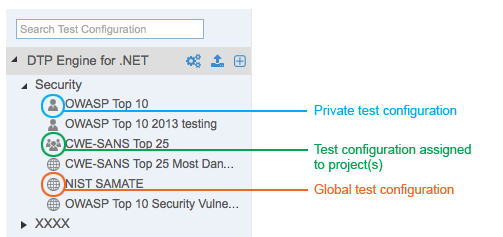 For instructions on how to assign test configurations, see Editing Test Configurations.
User role also determines the depth of interaction users can have with test configurations. Leaders of any project(s) can add new test configurations and assign them to their projects User Administration for information about user roles). They can also modify or delete them (see Managing Test Configurations).
The following table describes the read-write permissions associated with user roles:
Role

Private

(only visible to owner)

Projects

(only visible to project members)

Global

(visible to all users)

Team Member
Read-write
Read-only
Read-only
Team Leader
Read-write
Read-write
Read-write
Users that are not project leaders of an assigned project will view the test configuration in read-only mode.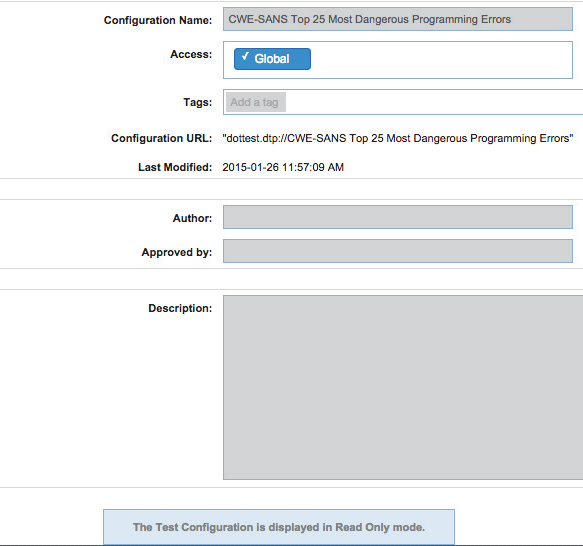 Editable fields are grayed-out and static analysis rules and other configurations cannot be modified.
Users that are leaders of any project or who have administrator level access can view and edit test configurations.
Ordinary members can also download the test configuration as .properties file.