Skip to end of metadata
Go to start of metadata
Before upgrading from previous versions of Development Testing Platform, make sure you read the following chapters and make all necessary adjustments:
Upgrading on Windows
Stop Parasoft services; see Stopping DTP Services.
Run the DTP installer and choose the Reinstall Development Testing Platform option when prompted.
Click Next and verify the installation settings.
Click Install to proceed.The installer will uninstall the existing version before and the newer version.
Click Finish when the installation is complete to start DTP services. All configuration files should be preserved.
Upgrading on Linux and Solaris
Stop Parasoft services; see 

Stopping DTP Services

.

Run the installation script with the -u option:
./DTP.sh -u DTP_HOME
where DTP_HOME is the installation directory of the current installation.

You must type the full, non-relative path.

Example: /home/parasoft/dtp but not ./parasoft/dtp

If you are installing the DTP distribution that includes an embedded database server (Linux-only), the installer will confirm the status of the database server service.

When the DTP.sh -u script finishes, start Development Testing Platform and the Data Collector with dtpconsole.sh.
See Stopping DTP Services for more details.
If you are installing the DTP distribution that includes an embedded database server, services will start automatically and you can immediately begin using DTP.

Go the Web interface and log in as an administrator. 
Upgrading the Report Center/Project Center Database Structure
Report Center verifies the database structure when you log in with administrator credentials after upgrading. You may be prompted to update the database.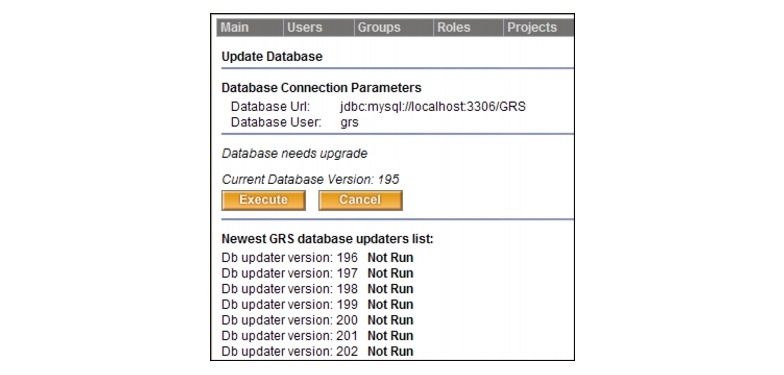 To upgrade the Report Center/Project Center database structure, following these steps:
Click

Execute

to run the database schema upgrade process. A message is displayed when it is finished. Report Center is ready to use.

Verify that Report Center and Project Center functionality and port numbers were preserved. 

Check the conf_update.log file in the DTP_HOME/logs/ directory to verify that the configuration updated successfully.