Skip to end of metadata
Go to start of metadata
The Static Analysis practice defines the acceptable number of violations and their age for the policy.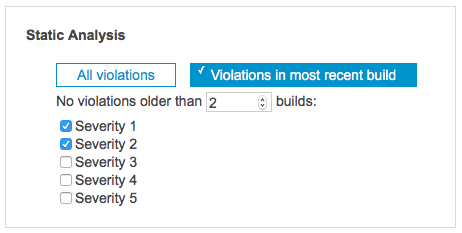 Requirements
DTP 5.3.3 or later
DTP Enterprise Pack 5.3.3 or later
Installation
See Downloading and Installing Artifacts.
Adding Practices to Your Policies
A practice is a mechanism for monitoring and enforcing development and testing policies. See Adding a Policy for instructions on how to add practices to policies.
Configuration 
To configure this practice:
Choose whether all violations should be monitored or if only the violations in the most recent build. 
Specify a threshold for how long a violation can exist.
Choose which severities to monitor.
You can add multiple Static Analysis practices to define thresholds for different severities.