License Server is a module shipped with DTP that enables you to manage licenses for Parasoft products deployed to your network. Upload the product licenses you received from Parasoft to License Server. When a tool is configured to connect to DTP, License Server will provide a license if a token is available. You can restrict and allocate license tokens as necessary.
License Server Home Screen
The License Server homepage contains quick links to commonly used interfaces.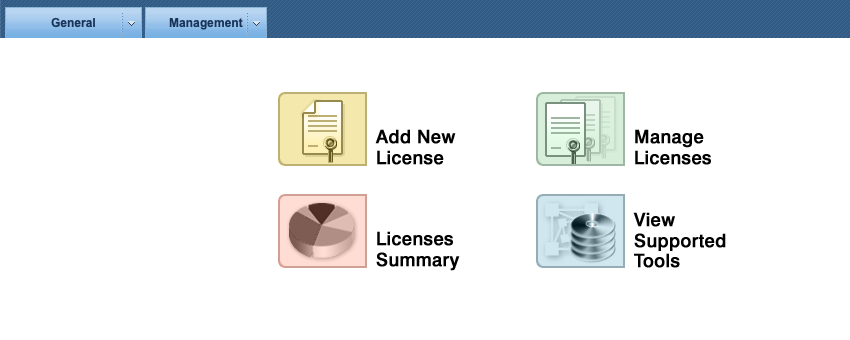 License Server Menu
The following tabs link to specific License Server functions.
General Tab
Choose Parasoft License to configure your DTP license.
Choose License Server Configuration to port, access log, and other settings.
Choose Logout to log out of 
DTP.
Management Tab
Choose Add New License to configure additional licenses provided by Parasoft. See Adding and Managing Licenses.
Choose Manage Licenses to access functionality for updating licenses served from License Server. See Adding and Managing Licenses. 
Choose License Summary for an overview of the license tokens that are currently being served to tools that have requested licenses. See Viewing License Statistics.
Choose Manage Groups to create and manage filters that determine access to license tokens. See Filtering by Group.
Choose View Supported Tools to show which tools and version are supported by your installation.

Choose View Access Logs to view the License Server access logs. See Viewing Log Files.

Choose Tool Usage to access the tools usage API documentation . See Viewing Tool License Usage.