Skip to end of metadata
Go to start of metadata
The Security Configuration screen enables you to configure a connection to an instance of Parasoft DTP or to a server hosting an instance of the PSTSec service. DTP and PSTSec provide user administration functionality, and connecting to one of those systems enables you to authenticate CTP users against users that are already associated with your Parasoft infrastructure.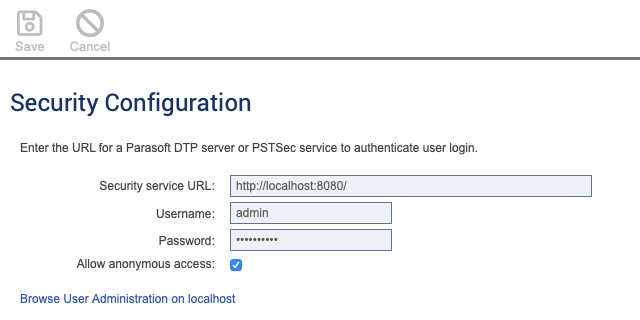 Specify the host and port of the DTP or standalone PSTSec server you use for user authentication the Security service URL field.
Specify the user name and password of a user with administrator access in the Username and Password fields. We recommend using a the built-in admin account, as opposed to an individual user's personal account.
If you want guests who have not logged in to CTP to have read-only access, enable the Allow anonymous access option.
Click the Browse User Administration on <USER ADMIN HOST> link. See Defining Users and Permissions for details on using the User Administration module.
Click the Save button at the top of the page.
Refer to the CTP Installation Guide for additional information.