Skip to end of metadata
Go to start of metadata
The Resource Permissions screen is an interface for granting and restricting access to CTP-released resources. You can restrict or grant access to the following types of resources:
systems
environments
SOAtest and Virtualize servers
data repository servers
test execution jobs
When a resource is selected and the Restricted option enabled, users moved to the Selected field will have access to the resource. Access to the resource enables users to perform actions on the resource according their user roles. 
For example, if a user with Provision role permissions is granted access to a specific test execution job, the user will be able to execute the job. If a user with System role permissions is give access to the test execution job, he or she will also be able to modify the job and delete the job. 
Administrators can set permissions on any resource and system users can set permissions on resources to which they already have permission. See Understanding Roles and Permissions for additional information about role-based permissions.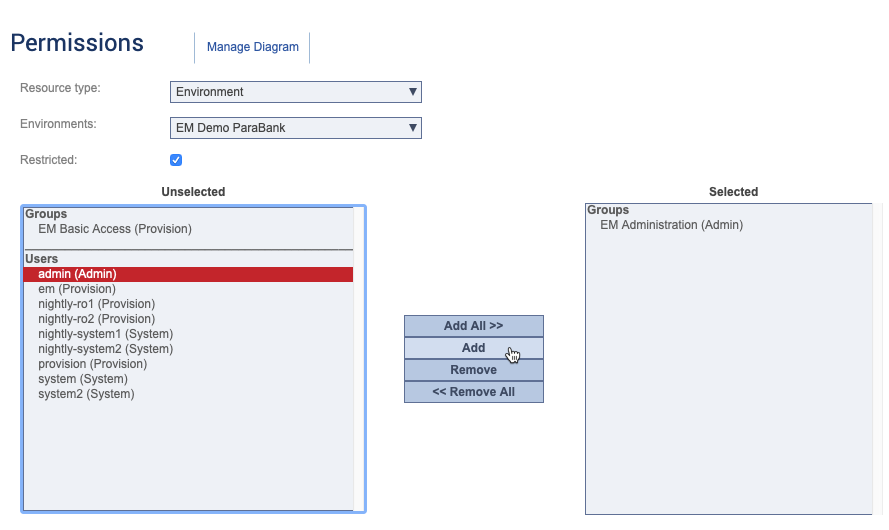 Choose a resource type from the Resource type drop-down menu. The label for the second drop-down menu adjusts to the type of resource selected. 
Choose a specific resource from the second menu. If you are setting permissions for a system or environment, a Manage Diagram link to the associated diagram also appears. Clicking the link exits the Resource Permissions screen and opens the diagram in the Environment Manager module. Any changes you have made will be applied when leaving the Resource Permissions screen. 
Enable or disable the Restricted option.
Use the controls to move groups and specific users from the Unselected field to the Selected field to give them access to the restricted resource. Move groups and specific users from the Selected field to the Unselected field to remove their permissions to access the resource.