Skip to end of metadata
Go to start of metadata
This topic introduces Lines Message Responders and explains configuration options that are unique to this type of Message Responder. 
About Lines Message Responders
Lines Message Responders used when you have some text input for which you want to script one or more specific lines. For example, perhaps you are virtualizing a mostly static text response, but that response contains a dynamic timestamp. You could create a Lines Responder that is in Form Input mode, and then set the line that contains the dynamic timestamp to Scripted and write a simple script to generate the needed timestamp.
You can create a Lines Message Responder tool by adding an EDI Message Responder tool and changing its format to Lines. The tool's name will then change to Lines Message Responder upon save (unless you disabled the Use Default Name option).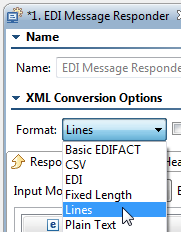 Conversion Option
No conversion options are available in the Lines Message Responder tool. For details on configuring standard Message Responder behavior (e.g., correlations, performance profiles, etc.), see Message Responder Overview.