Skip to end of metadata
Go to start of metadata
The embedded data repository server is automatically installed with SOAtest and Virtualize. The server starts up when you launch SOAtest or Virtualize and is added to the Data Repositories view (under the Embedded Server node).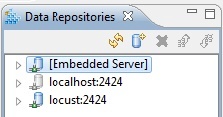 The embedded data repository's port is automatically set based on port availability. If you want to see which port is being used:
Choose Parasoft> Preferences.
Open the Server page.
Review the port information in the Data Repository field.