Skip to end of metadata
Go to start of metadata
Test Cases by Metadata - Pie
This widget shows the distribution of Parasoft metadata (priority, action, and risk impact) associated with the test cases executed in the filter.
This widget is added to the Tests category after deploying the Security Compliance DTP Workflow. See Adding Widgets for instructions on how to manually add the widget to your dashboard.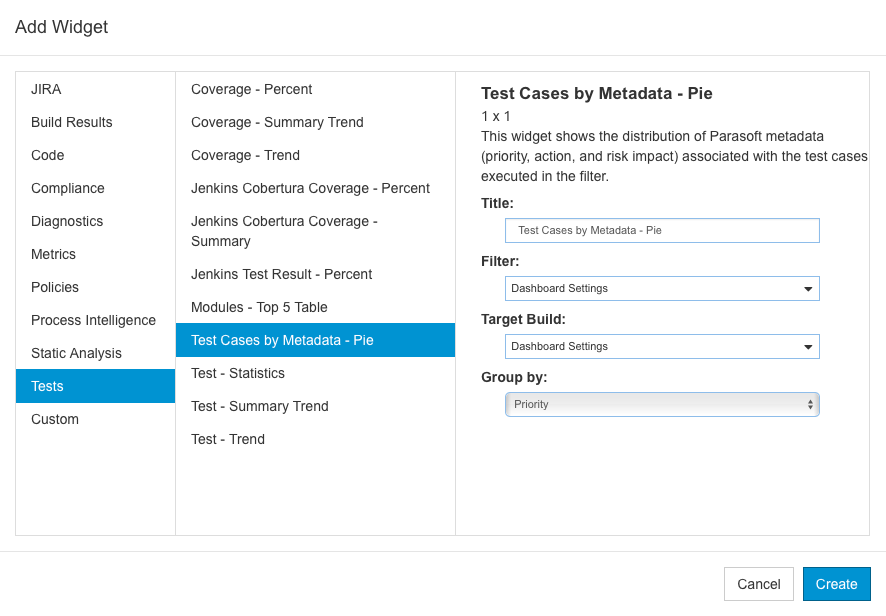 You can configure the following settings:
| | |
| --- | --- |
| Title | Enter a new title to replace the default title that appears on the dashboard. |
| Filter | Choose Dashboard Settings to use the dashboard filter or choose a filter from the drop-down menu. |
| Target Build | Choose a build from the drop-down menu. Only the data for this build will appear in the widget. |
| Group by | Choose a type of metadata to group by in the widget (priority, action, and risk impact). |
You can add an instance of the widget for each type of metadata.

You can perform the following actions:
Mouse over a segment in chart to view the number of test cases tagged according to a specific metadata category.
Click on a section to open the Test Explorer filtered by type of metadata.