Skip to end of metadata
Go to start of metadata
Gates measure compliance to one or more policies at a particular point in time. If the policy expectations are not met, the gate can prevent the software from proceeding to the next phase of the SDLC.
Choose a project in the Projects tab and click Add Gate.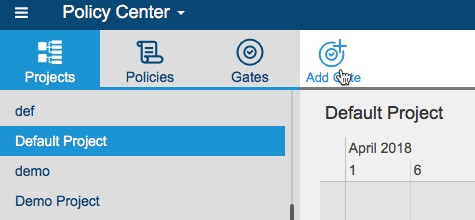 The gate will be added to the project timeline. If no policies have been applied to the project, the gate will show that it contains no data.   

Add policies to the project (see Defining Policies) and the gate will begin showing compliance status.

Removing Gates from a Project
If you want to remove a gate from a specific project, open that project's page, select the gate you want to remove, then click the Delete icon in the top right of the page.