Skip to end of metadata
Go to start of metadata
Before users can select different component states while creating/provisioning environments, the available states need to be defined as component instances.
An instance describes a particular state that the component can be set to (in terms of proxies, virtual assets, data source usage, performance profiles, etc.). An instance can determine:
What message proxy is used—and with what settings (e.g., whether it records traffic, directs traffic to a real asset, directs traffic to a virtual asset).
What JDBC controller is used—and with what mode (e.g., virtualize, record, passthrough, etc.) and what logging.
Which virtual asset is deployed—and with what settings (data sets, performance profiles, etc.).
Which test scenarios are used to check the health of this component.
Which real endpoints are checked in determining online or offline status.
Which provisioning action is performed (e.g., to configure a real endpoint in a certain manner, etc.).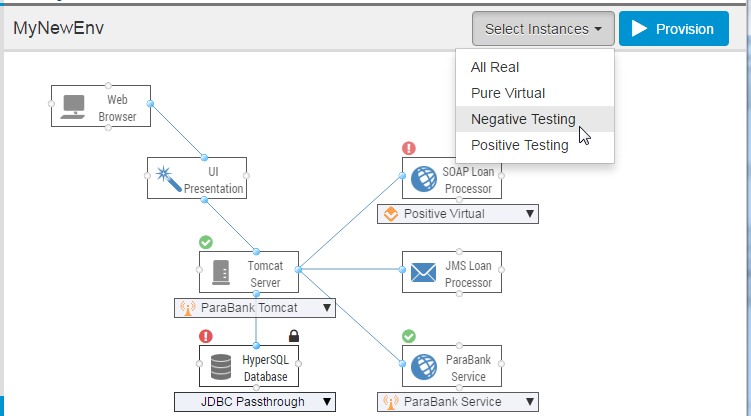 You can define any number of instances for each component. For instance, you might want a test environment to have the option of provisioning an actual database as well as three different virtualized databases—each of which uses a different data set. Or, you might want to make available several different versions of a virtualized partner service—each of which follows a different performance profile.
Developers and testers can then specify the different combinations of component instances that they want to provision for a particular test environment. When an environment is provisioned, the involved components are set to the selected state.
If a component can be accessed via an HTTP, JMS, or MQ endpoint, you can configure a "real" component instance as well virtual ones. If you define both real and virtual instances of a component, CTP will alert you if the real endpoint is offline. Details on this functionality are provided in Reviewing Out of Sync Virtual Assets. Note that provisioning a real component instance will disable the virtual assets used in the other instances.
The following icons are used to mark specific types of component instances:
| Icon | Meaning |
| --- | --- |
| | The instance uses a "real" endpoint (not a virtual asset). |
| | The instance uses a virtual asset. |
| | The instance executes one or more test scenarios and is not associated with a virtual asset or real endpoint. |