Skip to end of metadata
Go to start of metadata
This help system gives you a few ways to find what you're looking for. Here's an overview of the search functionality, and a few tips to help you find things more easily.
Quick Search
To perform a quick search, choose the search field at the top-right of every page or type / on your keyboard to place your cursor in the search field. Type the name of a page or space and choose from the list of options displayed.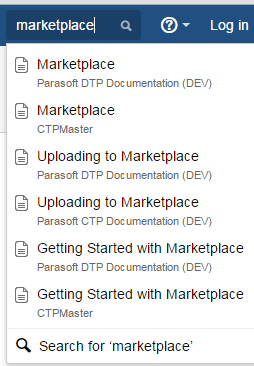 If you don't immediately see what you need in the quick search, hit Enter or choose the Search for option at the bottom of the search results to do a full search
Full Search
The full search allows you to search all content in all spaces, or filter the results to show only what you're after. To use the full search:
Type your query into the search field at the top-right corner of every screen (or at the top of the Search screen).
Press the Enter key.

F
iltering your Search Results
The documentation for each version of each Parasoft product is assigned a unique "space." The name of each space is shown in the top left corner of the help system.

To focus your search results on a specific space, enter a space filter: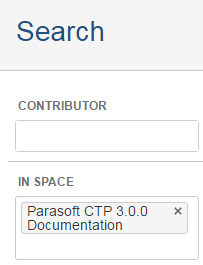 You can also filter your search results by "last modified" date.