Skip to end of metadata
Go to start of metadata
C++test integrates with Eclipse CDT projects created for SOFTUNE Development Tools. Depending on the testing capabilities you want to use, the following additional configurations may be required:
Under the C++test Build Setting (sright-click that project in the project tree, choose Properties from the shortcut menu, then select choose Parasoft> C++test> Build Settings), ensure that:

The compiler family is set to FR Family SOFTUNE C/C++ Compiler V6.
The proper compiler and linker executables are entered.
The Synchronize with project settings field must be unchecked: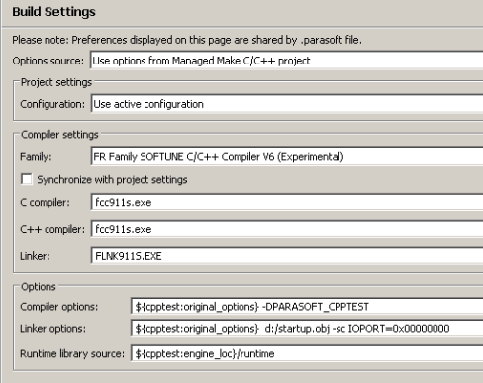 For unit testing on the actual target or simulator, you need to provide a dedicated startup assembler file. This file should provide an appropriate stack and heap memory configuration as well as low-level startup and initialization code. The compiled object  (e.g., startup.obj) should be added to the project's Linker options.
For unit testing on the simulator, the proper IOPORT address needs to be specified as a linker option. For details, see Testing on the Simulator.