...
Anchor
| | |
| --- | --- |
| | Correlating Jtest, C++test, and dotTEST_Tests |
| | Correlating Jtest, C++test, and dotTEST_Tests |
Correlating C++test Tests
Project Center Parasoft DTP can correlate unit test cases with PRs (problem reports) and FRs (feature requests) defined in a bug-tracking system or in a requirements management system. This allows Project Center to track whether each item has an associated test, and whether that test is passing or failing.
...
The following markers are supported:
Do not include other code on the line with the comment, and use only one type of marker per line. Use a comma or a space to separate markers.
...
You can customize the tags your team can use to associate a test case with an issue from an issue/feature/defect tracking system (for example, Bugzilla). This allows you to configure the tag to match the language that your organization uses to refer to defects. For instance, some organizations use the term "PR" to refer to a defect.  Others use "defect" and would thus prefer to use a custom @defect tag rather than the default @pr tag.The default set of tags is @pr and @bugzilla.
If you do not want to use the default defect/issue tracking tags (@pr, @bugzilla), specify aliases for the tags you prefer to use as follows:
Choose Parasoft> Preferences.
Select Parasoft> Issue Tracking Tags.
Use the available controls to add, modify, or delete tags.

A tag is followed by one or more values that must be represented by either a single string or a number of strings separated by separator tokens.
Separator token values can be any permutation of comma-separated lists of strings and whitespace-separated lists of strings.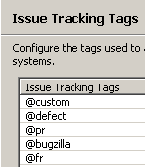 Image Removed
Image Added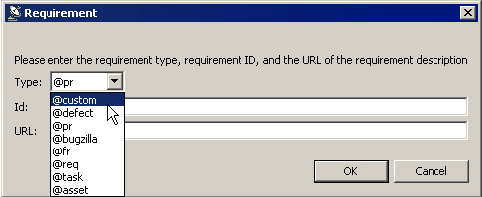 Image Removed
Customization Example1
Assume that your team uses the issue tracking tags  tags @bugzilla and @defect (a custom issue tracking tag).
...