...
Unit Test Assistant can identify gaps in test coverage and provide guidance for covering these gaps. You can increase code coverage using Uncovered code recommendations in the the Recommendations tab or the Cover the line option in the Unit Test Assistant view.
Uncovered code recommendations are displayed after your tests are run and include action links and suggestions to guide you through the process of covering the uncovered source code.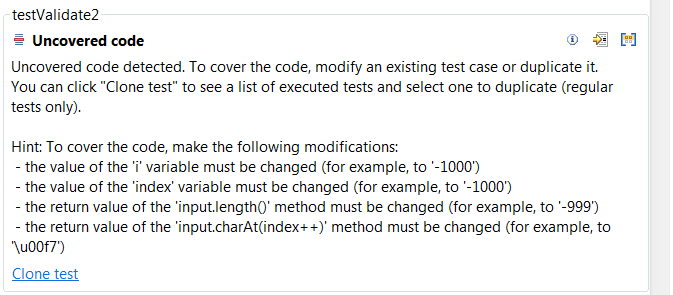 The Cover the line option allows you to create from scratch a test case to cover the uncovered line you selected in the editor.

Image Removed
Increasing Coverage with UTA Recommendations
...
Info
| | |
| --- | --- |
| icon | false |
| title | Parameterized tests |
Cloning is not available for recommendations associated with parameterized tests.
...
The Unit Test Assistant view displays the Cover the line option when you select a testable code line in your editor. The option allows you to create a new test case to cover the line you selected. By analyzing your source code, UTA can identify the values that are required for the test case to cover the selected line.
...
For some code lines, UTA may calculate the values required to cover the line but it may be unable to automatically configure one or more of these values during test generation. As a result, the created test case will include a comment that lists all the required values, regardless of whether they were configured by UTA or not. In such a case, review the information in the comment and manually modify or add the values that have not been automatically configured.
...