...
Code Block
"name": "my_violations_by_severity_pie",
"type": "native",
"uuid": "21de9b86-1c35-457d-aa4e-4f65014a5a4c"
Resource Groups - Top 5 Table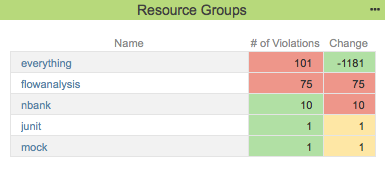 A resource group is a collection of resources (i.e., files and/or folders). It is defined by a set of one or more Ant file patterns. This widget shows the five resource groups containing the most violations, as well as the number of changed files within each resource group. 
...