This topic explains how to configure and apply the DB tool in SOAtest and Virtualize. This tool allows you to query databases 
...
databases for validating SQL statements with SOAtest
...
.
Sections include:
...
Enable the Local option and specify the Driver, URL, Username, and Password of the database to be queried. For more information on configuring database connection settings, see  
...
Database Configuration Parameters in SOAtestor Database Configuration Parameters in Virtualize.

You can also enable the Close connection option to close the connection if you are querying the database once and do not need to wait for another command. Do not enable this option when you plan to connect multiple DB tools to the same DB so that all tools can share a connection. Sharing the connection improves resource efficiency, as opposed to using resources on a new connection for each DB tool.
...
If your test suite has a Database Account shared property, you can connect  Use Local Settings,Use Shared Property, or Use Both. These options enable you to use only settings within the corresponding DB tool, settings from a shared global database account (global database settings that you added to the test suite as a Global Property), or both. For more information on how to define shared properties and export them to a file, see 
...
Global Database Account Properties in SOAtest or Adding Global Properties in Virtualize.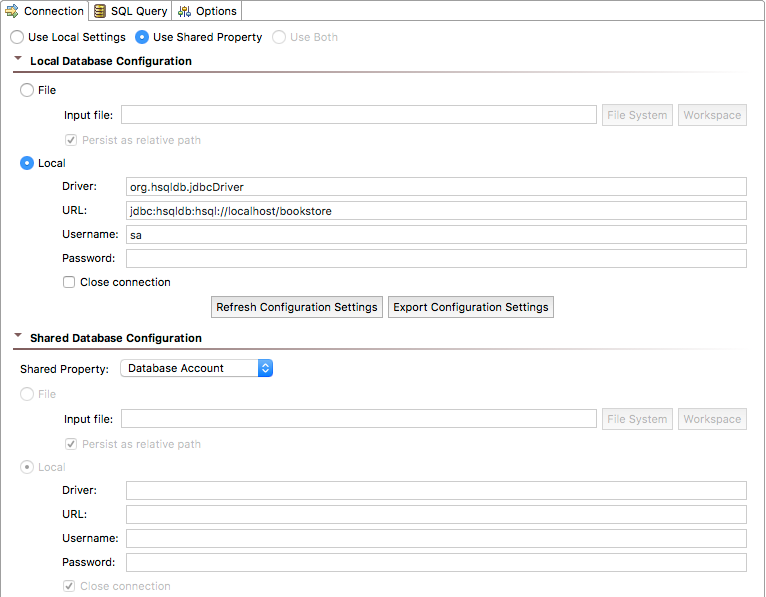 Info
| | |
| --- | --- |
| title | Remember to check the Traffic tool connection ID |
The Traffic tool shows a connection ID. Checking this ID  will help you ensure that your DB tools are using the same connection.
...
The types you list in that field can be separated with spaces or commas, and the type names correspond to the field names in the class java.sql.Types (http://docs.oracle.com/javase/8/docs/api/java/sql/Types.html) or oracle.jdbc.OracleTypes class fields (http://download.oracle.com/docs/cd/A97329_03/web.902/q20224/oracle/jdbc/OracleTypes.html). will look for the type you provide in java.sql.Types first. If it is not found there, it will look for it in oracle.jdbc.OracleTypes. The type name you provide is passed to the JDBC CallableStatement.registerOutParameter().
...
Oracle databases support various proprietary data types. If your database utilizes these data types, you must add the appropriate jar(s) to  classpath to  classpath in the Preferences panel (under Parasoft> JDBC Drivers).
...